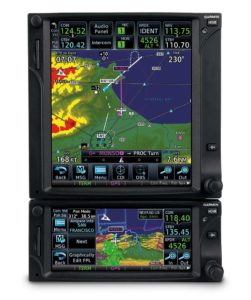 The Instrument Rating normally takes about 4 months to complete.  It consists of flight and ground instruction.  Ground Training utilizes a CD based home study ground program to prepare the student for the Instrument Rating written test. The primary objective of ground training is to provide the students with the knowledge and understanding of the following subjects: attitude flying, communications, radio navigation aids, charts, procedures, holding, approaches, meteorology, task prioritization, CRM, aero medical factors, and the IFR system.
The flight training is normally conducted in the Cessna 172P equipped with a Garmin 430, although other aircraft models are available for instrument training.  The student must successfully complete all flight training maneuvers outlined in the FAA practical test standards before the final evaluation for the Instrument Airplane Rating.
Instrument training includes air traffic control clearances and procedures, flight by reference to instruments, navigation systems, instrument approach procedures, and emergency operations.  Detailed descriptions are available that outline flight and instructor time and course costs.  Contact AFTC for more information.

Prerequisites: 
Hold an FAA Private Pilot's Certificate.